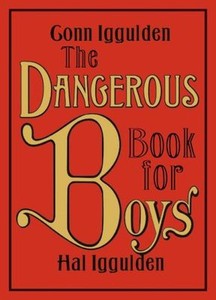 Christmas Present Idea for Boys of Any Age!!!!
Before I was even pregnant with our first my husband saw this book in
Target
and had to buy it. It's full of everything boy! We knew we would have a boy one day so it was a good investment. Little did we know, we would have 2 boys and I could only dream pink. Good thing I didn't buy the girl version of this book, it would still be collecting dust. Our oldest is now going on 3 (where has time gone?) and I was thinking the other day that its time to break out that book. It's time that my husband and our oldest sit down and do some of the more simple things in the book. Paper airplanes being first on the list. What child and father doesn't love paper airplanes? I think even our almost 1 year old would love watching the planes fly, and then he would try to eat them. It's a book that they can use until your son/sons move out, and even then pass it on to grandsons! The book has everything in it, it's a perfect gift for a husband and his son/sons. Plus its under $20 so its afforable for any budget!There is also
The Boy Book of Survival
,
For Boys Only The Biggest Baddest Book Ever,
and
The Boys Book How to Be the Best at Everything.
There are girls books to, but in my home, boys have taken over so no need for me to dream right now.
Google Product Review
Says this about the book:
The bestselling book for every boy from eight to eighty, covering essential boyhood skills such as building tree houses, learning how to fish, finding true north, and even answering the age old question of what the big deal with girls is. In this digital age there is still a place for knots, skimming stones and stories of incredible courage. This book recaptures Sunday afternoons, stimulates curiosity, and makes for great father-son activities. The brothers Conn and Hal have put together a wonderful collection of all things that make being young or young at heart fun—building go-carts and electromagnets, identifying insects and spiders, and flying the

world's best paper airplanes. The completely revised American Edition includes: The Greatest Paper Airplane in the World The Seven Wonders of the Ancient World The Five Knots Every Boy Should Know Stickball Slingshots Fossils Building a Treehouse Making a Bow and Arrow Fishing (revised with US Fish) Timers and Tripwires Baseball's "Most Valuable Players" Famous Battles-Including Lexington and Concord, The Alamo, and Gettysburg Spies-Codes and Ciphers Making a Go-Cart Navajo Code Talkers' Dictionary Girls Cloud Formations The States of the U.S. Mountains of the U.S. Navigation The Declaration of Independence Skimming Stones Making a Periscope The Ten Commandments Common US Trees Timeline of American History